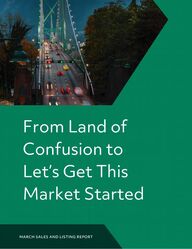 Return to flip book view
Dexter Realty Market Report
Page 1
Page 2
Highlights of the May 2023 DexterHousing Report• May average home price $200,000 higherthan in January• May home sales-to-listing ratio a sizzling59%• Total sales the highest this year and higherthan in May 2022• Surrey detached new listings were up 53%from April 2023• Overall higher listings may point to a priceplateau this summerAfter five months that defied most predictionsand pundits, the Metro Vancouver housingmarket has righted itself - as we've been sayingthe last few months, while quickly shifting to aseller's market. But the potential is there to bemore balanced between buyers and sellers aswe sail into the summer.
Page 3
May exposed a slight tilt in that balance infavour of buyers, with sellers about toface a more competitive environment withthe increase in new listings that happenedin May. And depending on what happenswith the Bank of Canada's interest rateannouncement on Wednesday, that couldchange some buyers' ability to compete.Back in January and before – when theheadlines were full of predictions of a recessionand a continued housing downturn - we urgedhomebuyers to jump into the market to takeadvantage of the dip. Since then, the averagehome price in Greater Vancouver has shot upby $200,000 and the sales-to-listing ratio hasrisen from 29% to 61% in April before settling to59% in May, close to the hottest markets in2021 and early 2022.We based our forecast not only on the strengthof the regional economy but on decades ofexperience as real estate professionals atDexter Realty. We have seen deep downturnsand heady highs before, so we understand thepatterns and how quickly it can change.
Page 4
While May 2023 marked the fifth straightmonth-over-month increase in sale and price, italso sent the first signals of a chance for amarket shift.While we are still in a seller's market inmost areas and property types, if theincrease in new listings continues, thiswill favour buyers. And perhaps somebuyers are waiting for the June 7 Bank ofCanada announcement, which couldaffect mortgage rates.The evidence is in the number of sales andlistings in May, and when they occurred. It is allabout momentum.In May 2023 a total of 3,411 residentialproperties sold in Greater Vancouver, not onlythe highest sales of this year but the first monthin 2023 that sales were higher than the sametime a year earlier and the first time this trendoccurred in the last few years.
Page 5
The average (not benchmark) home price inMay reached $1,315,617, the highest levelsince April 2022 and up nearly 3 per cent fromMay of 2022.This would all point to a seller's market, exceptthat, unlike previous months this year, Maysales were slightly lower in the second half ofthe month compared to the previous two-weekperiod to start May. At the same time, newlistings increased, rising from 2,909 atmid-month to 5,776 at month's end, comparedto 4,399 in April 2023. May tends to be the mostactive month of the spring market, so we couldsee that shift come June.In the Fraser Valley, new listings in May, at3,533, were 42% higher than in April (withdetached listings up a startling 61%) while salesincreased just 10% month-over-month to 1,711.So, as May ended, we were seeing parallelmomentums: many more listings and perhapsthe peak of sales.While the last few months have beencharacterised by multiple offers and increasing
Page 6
prices, we will now see more competitionamong sellers. It will take many more listings toease the competition amongst buyers but Maywas a start.With the increase in listings comes some greatopportunities for buyers. Work with anexperienced REALTOR® who can sniff out theright property that's gone under the radar. Thisisn't 2021 when prices went wild. There is nowa sense of control, and, for some properties,buyers are not willing to compete or take on theprice that sellers are asking.Buyers must practise patience now, which isdifficult after months of low inventory. We aregoing to see listings increase, thesales-to-listing ratio settling down and morecompetitive pricing offered by sellers. In short,hopefully we'll see some balance come into themarket for the first time in three years.Of course, all real estate markets are unique,and not all will follow the same trajectoryimmediately.
Page 7
There were 9,293 active listings at month end,above the 8,790 at the end of April. Yet someareas had fewer active listings in May than amonth earlier, so it's important to look locallywhen doing direct comparisons.Vancouver East saw a slight uptick in thesales-to-listings ratio while North Vancouvermaintained its high rate at 66%. Both locationswere called out by the provincial government fornot doing enough to supply housing in itsrecently released list of the municipalities thataren't building enough homes. Port Moody, onthe heels of less sales in May compared toApril, saw its absorption rate fall from 91% to65%.Ladner led the way in May with a 108%sales-to-listings ratio as there were more salesthan new listings there. Not surprisingly, Deltawas also cited by the province for not supplyingenough homes.
Page 8
Overall Greater Vancouver remains with3-months' supply of listings – and withthe current number of sales we'd need todouble the number of active listings to getinto a truly balanced market, but listingsare finally increasing.Best advice to buyers: Work with your trustedREALTOR®, get pre-approved for financing,narrow your search and be ready when youragent finds that ideal property. Do yourhomework and keep within your budget.Best advice to sellers: Prices have risen 1.5%per month this year, but do not expect that to beautomatic. A property priced right will attract aslew of potential buyers (it is not uncommon tosee 40 people through a weekend open house)but if it is priced above the market or notshowhouse ready, buyers now have the optionto move on to the next new listings.
Page 9
A summary of the regional markets:Greater Vancouver: A total of 3,411residential properties sold in May, up 24%from a month earlier and, for the first time thisyear, higher than in the same month in 2022,when 2,947 transactions were counted. Thesurge in prices surprised us all, even theReal Estate Board of Greater Vancouver(REBGV). "Back in January, few peoplewould have predicted prices to be up asmuch as they are – ourselves included,"Andrew Lis, REBGV's director of economicsand data analytics said. "Our forecastprojected prices to be up by about 2% atyear-end. Instead, home prices are alreadyup about 6% or more across all home types."As of May 23, the composite benchmarkprice was $1,118,000, up 1.3% from a monthearlier; the detached house price was up1.8% to $ $1,953,600. While townhouseprices remained virtually the same as in April,at just over $1 million, condo apartment
Page 10
prices were up 1.1% month to month to$760,800.Active Listings were at 9,293 at month endcompared to 8,790 at the end of April; newlistings in May were up 31% compared toApril 2023. Month's supply of total residentiallistings is steady at 3 month's supply (seller'smarket conditions) and sales to listings ratioof 59% compared to 62% in April 2022 and45% in May 2022.
Page 11
Fraser Valley: Total Valley sales reached1,711 in May 2023, up 25% from May 2022and 10% higher than in April 2023. With newlistings up 42% from April, there were totalactive listings of 5,588 at the end of May,20% higher than a month before. Thebenchmark composite home price in Maywas $961,702, up 6.7% from April 2023 and3% higher than in May 2022.
Page 12
Vancouver Westside: Metro's bellwetherhousing market saw 624 sales in May, up33% from a month earlier and 7% higher thanin May 2022. The May 2023 benchmarkdetached house price has increased 5.7% (or$193,000) in the past six months and tookanother 0.5% step up from April to$3,338,800. Townhouses sold for$1,457,500, down 3% from April, and condoapartments sold in May 2023 at a benchmarkof $849,800, up 4.8% over the last threemonths. Active listings were 2,115 at monthend compared to 2,460 at that time last yearand 1,992 at the end of April, but new listingsin May were up 40% compared to April 2023.With a 3-month supply of total residentiallistings, the sales-to- listings ratio is a healthy53% compared to 56% in April 2023 and 46%in May 2022.
Page 13
Vancouver East Side: Vancouver is one ofthe cities named as needing to increase newhome starts and it is easy to understand,since East Vancouver, like the Westside, alsohas just a 3-month supply and asales-to-listing ratio above 50%. The problemis new homes are more expensive, largelybecause of government fees and taxes,which have increased sharply. A recent studyshowed a typical new $840,000 condoapartment in Vancouver includes $327,565 ingovernment costs. An Eastside resale condohad a benchmark price of $707,000 in May,up 1.9% from a month earlier, whiletownhouses were at $1,109,100, the same asin April, and detached houses sold in May forat a benchmark of $1,822,700, up 2.5% froma month before. Total May sales were 360,up 35% from a month earlier and 13% higherthan in May 2022. Active Listings were at1,006 at month end compared to 1,173 atthat time last year and 939 at the end of April.This is a full-on seller's market.
Page 14
North Vancouver: Total housing sales inMay were 288, up 32% from a month earlierand 3% above May 2022. The compositebenchmark home price is $1,397,500, up5.5% from six months ago and 1.8% higherthan in April 2023. While new listingsincreased 32% from April, total active listingswere 514 at the end of May, representing justa 2-months' supply of housing, withtownhouses down to a 1-month inventory.The sales-to-listing ratio has held steady at66% for two months. The benchmark pricefor a detached house is now just 4% belowMay 2022, and, at $2,269.400, the highestlevel this year.
Page 15
West Vancouver: The benchmark price of adetached house in West Vancouver in Maywas nearly unchanged from six months ago,at $3,111,600. Total housing sales, mostlydetached houses, were 80 in May, up 16%from April 2023 and 16% higher than in May2022. With 529 total active listings, there is a7-month supply in a balanced market wherethe sales-to-listing ratio is 35%.
Page 16
Richmond: Two large strata projects inRichmond totaling 1,200 units have beencancelled, the latest the 400-condo MinoraSquare on May 26, where pre-sale buyerdeposits are being refunded. Perhaps aresale condo is a safer bet, since Richmondhas also raised new condo development costcharges to around $25 per square foot. InMay, a total of 396 homes sold in Richmond,leaving a total inventory of 1,043 properties(a drop from 1,602 at the end of April), orabout a 3-month supply, with a 61%sales-to-listing ratio. Prices are rising sharply.The benchmark detached house price is up7.7% since December 2022, at $2,189,600;and the benchmark condo price in the sameperiod is up 9.6% to $747,00. Townhouseprices are 0.2% higher than a year ago, at$1,119,900.
Page 17
Burnaby East: Burnaby East saw 39 homesales in May, up from both April 2023 andMay 2022 and it now has 90 active listings.With a sales ratio of 57%, the benchmarkhome price is up 4% since the start of theyear, at $1,159,600. This is a seller's marketwith just a 2-month supply of homes on themarket.
Page 18
Burnaby North: Burnaby has the most newhousing in the works across the region, witha total of 10,630 new strata units envisionedin four massive projects from Brentwood tothe Edmonds area, according to an openhouse May 30 at Burnaby City Hall. All foursites require rezoning. However, Burnabyalso wants to increase development fees tohelp cover the cost of an extended array ofinfrastructure, including firehalls, RCMPpolice stations, homeless shelters and"composting and organic processingfacilities," which will add to new strata prices.The new homes are needed. Burnaby Northhas just a 2-month supply of active listingsand they are selling at a pace of 63% permonth. The benchmark condo price is now$805,800 and townhouses sell for $902,200,both up about 6% from the first of this year.
Page 19
Burnaby South: Total units sold in May were233, up 8% from a month earlier and 43%higher than in May 2022. The benchmarkcomposite home price is up 5.5% sinceJanuary 1, at $1,112,300; and detachedhouse prices are up 8% in the same period to$2,177,100, the highest in Burnaby. Newlistings in May were up 20% compared toApril 2023 but down 7% compared to May2022. The supply of total residential listings,at 404, is steady at a 2 month's supply(seller's market conditions) with asales-to-listings ratio of 73%.
Page 20
New Westminster: The benchmark price fora detached house in the Royal City was$1,525,800 in May, up 5% from the start of2023, but the overall composite price remainsamong the lowest in Metro, at $827,600. Atotal of 142 residential properties sold in May,26% higher than a month earlier and up 27%from May 2022. Active Listings were at 258at month end compared to 313 at that timelast year and 238 at the end of April. This isabout a 2-month supply as thesales-to-new-listing ratio has been running at70% in both May and April.
Page 21
Coquitlam: Total May sales reached 284, up35% from April 2023 and 16% highercompared to May 2022. Active Listings wereat 555 at month end compared to 642 at thattime last year and 495 at the end of April;new listings in May were up 38% comparedto April 2023, perhaps because sellers seewhat is happening. The benchmark homeprice has increased 4.7% so far this year to$1,114,900 and the sales-to-listing ratio hasbeen over 60% for four months. This is astrong seller's market.
Page 22
Port Moody: This Tri-City community has ahistory of slow development, and it is on thelist of cities where the province wants to seemore housing starts. Port Moody nowcharges $33,453 per detached or duplex lotin development fees and tacks from $11 to$14 per square onto new strata units, so thatwill add to new home prices. Right now thereis just a 2-month supply with only 184 activelistings. Benchmark home prices are still 9%below May 2022, at $1,112,300. The sales tolisting ratio, though, was 65% in May and91% in April, so supply could disappearquickly.
Page 23
Port Coquitlam: Total units sold in May were91, up from 76 in April 2023 and the verysame as in May 2022, but the compositebenchmark home price is down 6.9%year-over-year, at $951,800. Detachedhouses were benchmarked in May at$1,392,100, up 8.5% from January 1, but still8% lower than a year ago. While new listingsin May were up 89% from April 2023, thereare only 153 active listings, enough to lastabout two months, with a sales-to-listing ratiorunning at 62%.
Page 24
Pitt Meadows: Just 30 homes sold in May,but that was 44% better than April 2023 andhigher than the 28 sales in May 2022.Detached home prices, while lower than lastyear, have soared 10% from the start of thisyear to a 2023 high of $1,274,800 in May.Active Listings were at 71 at month endcompared to 84 at that time last year and atthe end of April; New Listings in May weredown 17% compared to April 2023 and thehot sales-to-listings ratio of 86% shows thecurrent supply may not last long.
Page 25
Maple Ridge: With 218 sales in May, totaltransactions were up 35% from a monthearlier and 23% higher than in May 2022.The benchmark detached house price hasincreased 7.6% over the past three months to$1,261,700, with townhouse prices up to$768,100 after a 2.4% increase from a monthearlier. The post-COVID slump in MapleRidge appears over, with a sales-to-listingratio in May of 63% and 62% in April in whathas become a seller's market with 539 activelistings available.
Page 26
Ladner: Delta is another of the Metro regioncities called out by the province for notbuilding enough new homes. Ladner, forexample, only has 85 active listings (downfrom 100 at the end of April) and the Maysales-to-new-listing ratio was 108% and newlistings were down 14% from April 2023,while sales increased 26% to 54transactions. The benchmark home price inLadner is up 7.2% since the start of the year,at $1,144,200. There were more strata salesthan new listings in May, which sawtownhouse benchmark prices rise 10.4% sofar this year to $973,800. Condo benchmarkprices are at $704,800 in May, up less than2% since January, however.
Page 27
Tsawwassen: Total units sold in May were62 up 15% compared to April 2023, up 44%higher than in May 2022. Active listings weresteady at 166 at month end compared to 165at that time last year and 167 at the end ofApril; New Listings in May were up 23%compared to April 2023. Total residentiallistings are at a 3 month's supply (seller'smarket conditions) and the sales to listingsratio of 68% compares to 73% in April 2023.The benchmark home price in May was$1,221,900, up 5.6% from the first of thisyear but nearly 9% below the price in May2022. Townhouse sales are particularly slowand the benchmark price of a townhouse, at$1,005,700 in May, has barely budged in twomonths.
Page 28
Surrey: B.C.'s second-biggest city saw 855total sales in May, almost evenly dividedamong detached, townhouse and condoproperties, but there the similarity ends.Detached sales, at 284, were up 44% from ayear earlier and 11.4% from April 2023. Theaverage detached price was $1,784,000 inMay, up 8% from a month earlier. There were246 townhouse sales, up 8% from a yearearlier and 14% higher than a month earlier,while the average townhouse price was upjust 0.3% from April 2023 to $878,396.Condo apartment sales, at 225, were up1.8% year to year, and 1% month to month,while the average price was up 3.3% fromlast year and 6.6% from April 2023, at$560,180.
Page 29
Download May Sales and ListingsStatistics All RegionalDownload May Sales and ListingsStatistics Houses TownhousesCondos